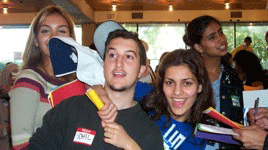 We want you to have a smooth transition to university life and have planned this orientation to help you succeed at York. We will introduce you to the academic services, social activities, recreational activities and facilities available to you, both at your college and throughout the university. We want to help you make connections.
Academic Orientation is offered by the college aligned to your faculty and program and is on Friday January 3rd, just before classes start on Monday Jan 6th. (Note not all faculties/programs accept new students for January.)
Click on the appropriate link below for more information and registration.
College
Time/
Registration
Programs
Bethune
12-3:30 pm
All Science programs, Science & Technology Studies
Calumet
12-3:30 pm
Psychology, Health Informatics, Heath Management, Health Policy
Founders
 10-3:30 pm
 Anthropology, Canadian Studies, East Asian Studies,European Studies, French Studies, Geography, Geography & Urban Studies, German Studies, Health and Society, History, Human Rights & Equity Studies, International Development Studies, Italian Studies, Latin American and Caribbean Studies, Linguistics, Portuguese Studies, Race Ethnicity and Indigeneity, Sexuality Studies, Social Work, South Asian Studies, Spanish, Urban Studies, Women's Studies
Glendon
Mon Jan 6
10-12 noon
 All Glendon College programs
Lassonde
10-3:30 pm 
All Lassonde programs
McLaughlin
10:30-3:30 pm
 Criminology, Global Political Studies, Law & Society, Political Science, Public Administration, Social Science, Sociology, Work and Labour Studies
New
 9:30-3:30 pm
 Administrative Studies, Disaster and Emergency Management, Human Resources Management, Information Technology
Stong
1:30-3:30 pm
English
Vanier
 11-3:30 pm
 Business & Society, Business & Economics, Children's Studies, Classical Studies & Classics, Culture and Expression, Economics, Financial & Business Economics, Hellenic Studies, Humanities, Individualized Studies, Jewish Studies, Philosophy, Religious Studies, Social & Political Thought, undecided LAPS majors
Winters
1:30-3:30 pm
All Fine Arts programs, LAPS Communications Studies